"Ahh, we all do dumb things...That's what makes us human."
— Hossan Ramzy to Niko Bellic.
Hossan Ramzy (Arabic: حسن رمزي) is a character in the Grand Theft Auto series who appears as a minor character in Grand Theft Auto IV.
Description
Ramzy is an Egyptian merchant seaman who worked alongside Niko Bellic on the Platypus. In the game's introduction, he expresses a desire to "make a go of it" and enter the United States to live the American Dream. In an e-mail, Hossan says that he has jumped ship in Florida, and expects to reside there. In reality, he still resides in Liberty City.
Random characters
Niko meets up with Hossan in a Random characters in western Algonquin, where he works as a street vendor selling counterfeit purses and bags. During this encounter, he and Niko pursue and kill a man who refused to pay Hossan for his work due to his status as an immigrant.
LCPD Database record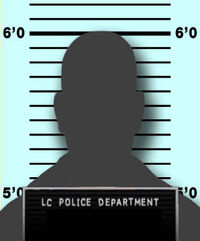 | | |
| --- | --- |
| Surname: | Ramzy |
| First Name: | Hossan |
| Age: | 40 |
| Place of Birth: | Egypt |
| | |
| --- | --- |
| Affiliations: | |
| Criminal Record: | 2007 - Trademark Counterfeiting |
Notes:

Recent immigrant to Liberty City from Egypt.
Arrested selling counterfeit handbags in Suffolk.
Mission Appearances
GTA IV
Gallery
Hossan's Random Encounter
Trivia
Hossan's e-mail address is HOSSAN75@grypa.org.
The names Hossan is an Anglicized form of the Arabic first name Hassan. Ramzy is correctly Arabic. An authentic rendering of his name would be Hassan Ramzy, although, Hossan could also be said as Hossam, which is another Arabic name.
His name may be a play on Hossam Ramzy, an Egyptian precussionist and music producer whose song "Khusara Khusara" was sampled in Jay-Z's "Big Pimpin'".
Like most characters in the game, Hossan will don a unique helmet when riding alongside the protagonist on a motorbike. His helmet is white.
Ad blocker interference detected!
Wikia is a free-to-use site that makes money from advertising. We have a modified experience for viewers using ad blockers

Wikia is not accessible if you've made further modifications. Remove the custom ad blocker rule(s) and the page will load as expected.