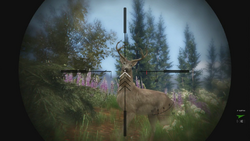 "Animals to spot, hunt, and be hunted by."
―Gameplay trailer.
Hunting is a feature slated to appear in Grand Theft Auto V.
Overview
The hunting feature appears to be based on the one featured in the 2010 open-world westren Red Dead Redemption, another game made by Rockstar Games. The hunting activity will occur mostly in Blaine County.
Animals
Grand Theft Auto V will feature around 15 animals that the player can hunt.[1]
The current animals known to appear in the game are:
References