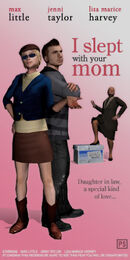 I Slept With Your Mom is a comedy movie advertised in Grand Theft Auto IV and Episodes from Liberty City starring Jenni Taylor, Max Little and Lisa Marice Harvey. The film's slogan is "Daughter in love, a special kind of love". The film's title is probably a parody of the hit television series How I Met Your Mother and 1967 movie The Graduate
Ad blocker interference detected!
Wikia is a free-to-use site that makes money from advertising. We have a modified experience for viewers using ad blockers

Wikia is not accessible if you've made further modifications. Remove the custom ad blocker rule(s) and the page will load as expected.