"Hold onto your lunch or you'll need windshield wipers on the inside of your cockpit. Point to point for jets through the docks and Downtown. Obstacles to avoid and two loop the loops will keep you on your toes... or your head."
―-Race description
In The Loop is an Air Race featured in Grand Theft Auto Online. It is available for up to 8 players. Players must race from Terminal to East Vinewood performing two loops over Chamberlain Hills and Vinewood on the way. Added to GTA Online as part of a group of new GTA Online Flight School Jobs, 2 weeks after the release of the San Andreas Flight School Update, on September 2nd, 2014.
Map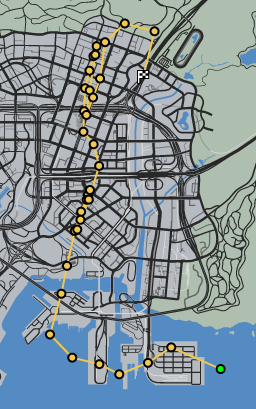 Gallery
Trivia
Ad blocker interference detected!
Wikia is a free-to-use site that makes money from advertising. We have a modified experience for viewers using ad blockers

Wikia is not accessible if you've made further modifications. Remove the custom ad blocker rule(s) and the page will load as expected.