This article or section contains insufficient information and is considered as a Stub. You can help GTA Wiki by expanding it as much as you can.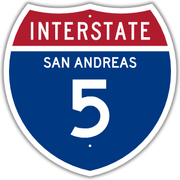 The Interstate System is a network of highways in the state of San Andreas that circulates the Los Santos area before ending or merging into other roads. There are four Interstate highways being Los Santos Freeway, Del Perro Freeway, Olympic Freeway and La Puerta Freeway. 
The highway names begin with an "I" prefix and then a number directly after a dash (i.e. I-4). The system exists of four originally five highways, but however I-3 seems to be absent in the game. Along with the Numbered Highways in San Andreas, Grand Theft Auto V has the most extensive freeway system in a Grand Theft Auto game.
Highways
Trivia
The Interstate is based of the real-life U.S nation-wide highway system of the same name.
Grand Theft Auto V is the first Grand Theft Auto game to include realistic Interstates.
The Interstate is the second largest freeway network after the Numbered Highways in San Andreas.