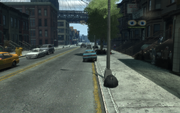 Iroquois Avenue is a fairly long street in Hove Beach, Broker. It starts along Crockett Avenue, heads north, intersects Bart Street, and ends along Cisco Street. It has lots of Russian/Eastern European related shops. Roman's cab office is on the junction of Cisco and Iroquois and Oleg Minkov's House is found on the street. Also, the Broker Bridge passes over the street.
Trivia
Ad blocker interference detected!
Wikia is a free-to-use site that makes money from advertising. We have a modified experience for viewers using ad blockers

Wikia is not accessible if you've made further modifications. Remove the custom ad blocker rule(s) and the page will load as expected.