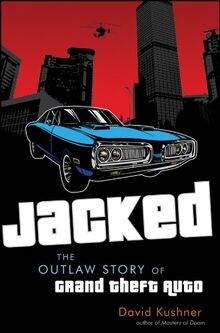 Jacked: The Outlaw Story of Grand Theft Auto, or simply Jacked, is a 2012 book about the creation and evolution of the Grand Theft Auto series.
It was written by David Kushner, who also made the book "Masters of Doom", a biography about the creators of another controversial video game series, Doom.
Jacked was one of the main inspirations for the BBC documentary, "The Gamechangers".
Description
The book details Sam and Dan Houser and their experiences while making the GTA series, as well as the many problems encountered during development of the games.
Reception
The book received mostly positive reviews. The Washington Post criticized it for some ambiguous details, which they attributed mainly to Rockstar's introversion.
Trivia
The car on the cover of the book is a 1970 Dodge Coronet R/T.
External Links