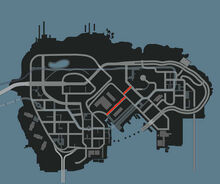 Jackhammer Street is two-way street in Industrial, Bohan featured in Grand Theft Auto IV that runs from Guantanamo Avenue to Lompoc Avenue. The route runs through an industrial area surrounded by warehouses and an elevated subway. At the end of the street there is a Stunt Jump.
Businesses
Trivia
The street's name is a reference to the type of construction tool, the Jackhammer, this may be linking to the fact that the street is slightly worn down, and is set in a typical industrial area.
Ad blocker interference detected!
Wikia is a free-to-use site that makes money from advertising. We have a modified experience for viewers using ad blockers

Wikia is not accessible if you've made further modifications. Remove the custom ad blocker rule(s) and the page will load as expected.