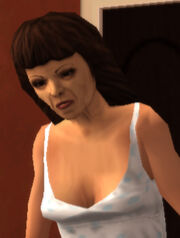 Janet Vance is the drug-addicted mother of the Vance brothers (Victor, Lance and Pete Vance). Since she was not fit to be a parent, her children lived with their Aunt Enid. Janet appears in a cutscene with her boyfriend Javier swearing she would never take drugs, only to end up stealing her sons' stash of cocaine. She is Caucasian, which means the father was Dominican. After she and her boyfriend steal the cocaine, they are never heard from again.
Janet Vance was voiced by Lynda Ashe.
Mission appearances
GTA Vice City Stories
Trivia
She is the first parent of a protagonist to have a physical appearance in the GTA series. The second is Adriana Yanira Lopez.