The accuracy of some information on this page has been disputed.


You can help by correcting it, finding sources to prove the integrity of the information or by discussing any changes that could be made on the talk page.
January Natasha Vasquez is a celebrity in the Grand Theft Auto series, who appears on the Television in Grand Theft Auto IV.
Background
She is the daughter of drug lord Alfonso Vasquez, and a cocaine addict herself. She was born in Algonquin in 1986, and once lived in Los Santos with her mother before moving back (into her own $40 million, 23-room penthouse in Star Junction). She soon became a famous celebutante among Algonquin's party circuit, befriending Cloe Parker, Jill Von Crastenburg, Poppy Mitchell and Bruce Spade.
She frequents Bahama Mamas, where she claims to have had "sexual relations" with an employee after hours. She has appeared on the game show "Are You An Idiot Bitch?", which she lost because she had never heard of the month January, and later believed it was named after her. She was ranked #2 among Rogue's "100 Sexiest Skanks" just behind Samantha Muldoon, and is currently filming an X reality show titled January Natasha Takes Vice Beach.
One possible inspiration for her character is Kim Kardashian - both are glamorous models and reality television personalities, and also both come from extremely wealthy families (Kim being the daughter of famous attorney Robert Kardashian). They are both described as full-figured, and her reality show is a parody of her sisters' show Kourtney and Khloe Take Miami.
LCPD Database record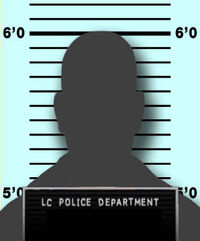 | | |
| --- | --- |
| Surname: | Vasquez |
| First Name: | January Natasha |
| Age: | 22 |
| Place of Birth: | Algonquin, Liberty City |
Affiliations:
Criminal Record:

2005 - Driving While Intoxicated
2007 - Possession Controlled Substance: Cocaine



Notes:

Daughter of millionaire Alfonso Vasquez, suspected to be in control of an international drug ring.
Algonquin socialite, well known on the Liberty City party circuit.
History of problems with drugs and alcohol.
Trivia
January Natasha is only mentioned once in GTA V in an internet news article from LS24 after the mission Unknowing the Truth. Reports that in a rare appearance, January Natasha was seen in a party at the Gentry Manor Hotel, getting drunk and making out with a unknown guy in the bathroom.
She is also mentioned in a Lifeinvader post by Beverly Felton. In the post, Beverly says that he took a picture of January Natasha 's vagina, but her piercing's glow spoiled the photo.
In the very beginning of GTA IV, if Niko goes to the Our Own Reality website, he will see January Natasha leaving a grey Fortune at what is mentioned to be San Fierro. However, the picture itself was actually taken in Liberty City.
See Also