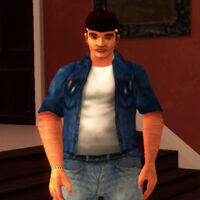 Javier is the boyfriend of Janet Vance who appears in Grand Theft Auto: Vice City Stories during the mission Snitch Hitch. He is likely facilitating her addiction to drugs, although the pair tries to persuade Victor and Lance, two of Janet's sons, that they had changed their ways. They later steal their drugs and disappear without a trace. Javier resembles many of the random pedestrians in Vice City.
Javier was voiced by Gregory Johnson.
Mission Appearances
GTA Vice City Stories
Ad blocker interference detected!
Wikia is a free-to-use site that makes money from advertising. We have a modified experience for viewers using ad blockers

Wikia is not accessible if you've made further modifications. Remove the custom ad blocker rule(s) and the page will load as expected.