"When a normal person wants to get out of the city, they have to sit in traffic for hours. Business leaders jump a jet and get out in minutes. Point to point for Vestras heading due North. Over the Kortz Center to Great Chaparral, past Mount Josiah, and all the way to Procopio Beach."
―-Race description
Jet-setting is an Air Race featured in Grand Theft Auto Online. It is available for up to 8 players. Players must race Vestra jets to Procopio Beach.
This race was added in The Business Update.
Map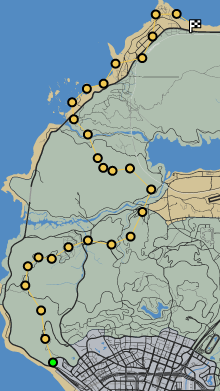 Gallery
Trivia
Ad blocker interference detected!
Wikia is a free-to-use site that makes money from advertising. We have a modified experience for viewers using ad blockers

Wikia is not accessible if you've made further modifications. Remove the custom ad blocker rule(s) and the page will load as expected.