"Long point to point race for Lazers. Fighter jets will start at Fort Zancudo and go over the wetlands before coming over the Vinewood Hills rounding Downtown and finishing above Del Perro. Pilots have to go between buildings and under bridges at high speed."
―-Race description
Jet Lag is an Air Race featured in Grand Theft Auto Online. It is available for up to 8 players. Players must race Lazer jets from north of Fort Zancudo to Del Perro with numerous obstacles on the way.
Map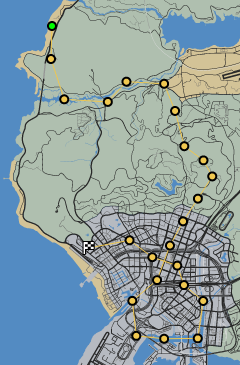 Gallery
Trivia
Jet lag is a condition which results from alterations to the body's circadian rhythms resulting from rapid long-distance transmeridian (east–west or west–east) travel on high-speed aircraft.
Ad blocker interference detected!
Wikia is a free-to-use site that makes money from advertising. We have a modified experience for viewers using ad blockers

Wikia is not accessible if you've made further modifications. Remove the custom ad blocker rule(s) and the page will load as expected.