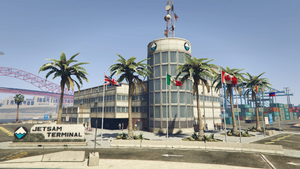 The Jetsam Terminal is a building located on Buccaneer Way in the Terminal area of the Port of Los Santos in Grand Theft Auto V.
It is the San Andreas headquarters of the Jetsam shipping company. The flags of the UK, Mexico, Canada, France, Ireland and Russia are seen flying in front of the building, which indicates Jetsam is an international exporting company.
Signs
Unauthorized vehicles not displaying placards or license plates issued for disabled persons will be towed away at owner's expense. Towed vehicles may be reclaimed at Jetsam Main Terminal.
Warning: This facility contains chemicals known to the State of Los Santos to cause cancer, birth defects or other reproductive harm.
Trivia
Gallery
Ad blocker interference detected!
Wikia is a free-to-use site that makes money from advertising. We have a modified experience for viewers using ad blockers

Wikia is not accessible if you've made further modifications. Remove the custom ad blocker rule(s) and the page will load as expected.