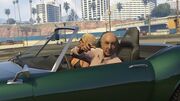 "Thanks LSC for getting me kitted out! Finally women look at me again with something other than disgust."
―Joe Oliva
Joe Oliva is a character in the Grand Theft Auto series, mentioned on the Lifeinvader page of Los Santos Customs. It is revealed that Joe pimped his car out in order to attract ladies, and it appears to have been successful.
Ad blocker interference detected!
Wikia is a free-to-use site that makes money from advertising. We have a modified experience for viewers using ad blockers

Wikia is not accessible if you've made further modifications. Remove the custom ad blocker rule(s) and the page will load as expected.