"Oh, a donut. Make it large."
―A quote used by Joey.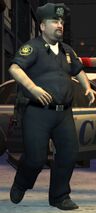 This article or section contains insufficient information and is considered as a Stub. You can help the GTA Wiki by expanding it as much as you can.
Joey
is a character in
Grand Theft Auto IV
. He is a member of the
Liberty City Police Department
, a white fat cop that may wearing a black jacket and tie or short-sleeved. He can be seen patrolling on foot and in the 
Police Cruiser
and
Police Patrol
.
Ad blocker interference detected!
Wikia is a free-to-use site that makes money from advertising. We have a modified experience for viewers using ad blockers

Wikia is not accessible if you've made further modifications. Remove the custom ad blocker rule(s) and the page will load as expected.