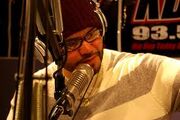 Julio G (born as Julio Gonzalez in 1969 in Lynwood, California) is the DJ for the Radio Los Santos in Grand Theft Auto: San Andreas, set in 1992.
Description
Julio G is a very calm and collected person who is simply a rap/hip-hop aficionado. He comments on many bad going-ons in Los Santos, persuading people to take a non-violent approach to all things, in hope of helping the community fight crime and getting drugs off the streets in Los Santos. Sometimes after a mission, Julio gives out weather reports and news regarding events such as the Ballas taking over again and the Grove Street Families rise again in Los Santos. He also comments during riots, telling people to stop rioting, that it is not cool and people are destroying their own hoods.
Julio G is voiced as himself, and is a real life DJ from Lynwood, California.
External Links
Ad blocker interference detected!
Wikia is a free-to-use site that makes money from advertising. We have a modified experience for viewers using ad blockers

Wikia is not accessible if you've made further modifications. Remove the custom ad blocker rule(s) and the page will load as expected.