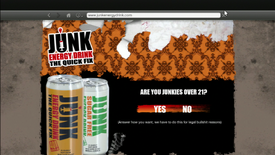 "Junk! The official beverage of living on the edge and extreme sports. We sponsor more athletes that end up paralyzed or dead than any other energy drink"
―Junkenergydrink.com
junkenergydrink.com is a website in Grand Theft Auto V, and is the official website of Junk Energy Drink. Junk Energy Drink is believed to be a parody of the energy drink "Red Bull" in the HD Universe, due to its references to extreme athletes.
Teens! Learn More About Your Junk
"You need energy. Your body is weak and you run out of energy from insecurity, spastic masturbation, anxiety and self loathing. You need Junk! Your friends and parents don't understand you. We've spent billions of dollars making sure that we do."
―Junkenergydrink.com
This part of the website describes all of the ingredients and benefits of the drink.
Adrenaline Junkies Map
junkenergydrink.com is the only place in-game that provides a map of all of the stunt jump, under the bridge, and base jump locations (though base jump locations are visible on the in-game map). The Adrenaline Junkies map does not update as the player progress through completing the events listed.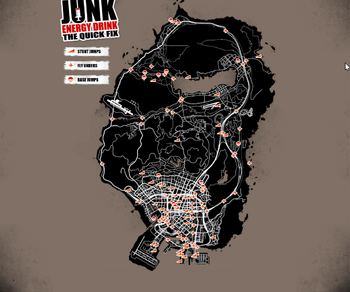 Trivia
If you answer No to the " Are you over 21 " question, it will then ask you if you want to try again, with the only answer being Yes, which will let you access the page.
Gallery