This article or section contains insufficient information and is considered as a Stub. You can help GTA Wiki by expanding it as much as you can.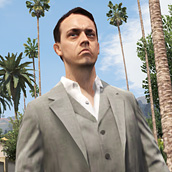 "It takes a special kind of integrity for a man to be both a newsmaker and a marketmaker without it becoming a conflict of interest."
―Karl Kelly.
Karl Kelly is a character in the Grand Theft Auto series, appearing in the promotional "Lifeinvader" website for Grand Theft Auto V.
Kelly is a reporter for Weazel News, living in Richman Hills, Los Santos. Kelly owns an account on Lifeinvader, on which he often posts different statuses.[1] He has an ex-wife[2] called Cynthia. [3]
References
↑

Karl Kelly's "About" section states "Happily Divorced".

↑ Karl Kelly: "In many ways, wives are like stocks. You get them while they're vulnerable, ride them till they peak, then dump them for a volatile young start-up. No hard feelings, Cynthia."
Lifeinvader.