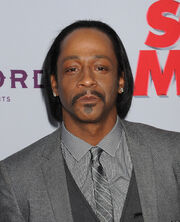 Wikipedia
Micah Sierra "Katt" Williams (born September 2, 1971 in Cincinnati, Ohio) is an American comedian, voice actor, actor and rapper who played as Bobby Shaw in My Wife and Kids, Freddie in The Tracy Morgan Show and the voice of A Pimp Named Slickback in The Boondocks. He voices himself in the Split Sides club in Grand Theft Auto IV. During his performances, he will either speak about weed, studio apartments, Hustlin', test driving, pets or short people. 
Gallery
Trivia
Ad blocker interference detected!
Wikia is a free-to-use site that makes money from advertising. We have a modified experience for viewers using ad blockers

Wikia is not accessible if you've made further modifications. Remove the custom ad blocker rule(s) and the page will load as expected.