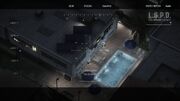 Katy Loden is a minor character in Grand Theft Auto V.
She only appears in Eye in the Sky. During the mission, she can be scanned as Trevor looks for Chad Mulligan. Whilst scanned, she's seen watching Greg Howles and Larry Loden (possibly her husband) fighting on a rooftop. She says that Greg was spying on her, which Greg denies. When she's scanned, the computer claims she was charged with Tax Evasion.
Mission Appearances
Ad blocker interference detected!
Wikia is a free-to-use site that makes money from advertising. We have a modified experience for viewers using ad blockers

Wikia is not accessible if you've made further modifications. Remove the custom ad blocker rule(s) and the page will load as expected.