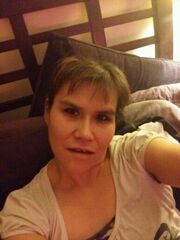 Kim Gurney is a voice actress who voiced Misty in Grand Theft Auto III, commercial voices in Grand Theft Auto: Vice City, pedestrians in Grand Theft Auto: San Andreas and the Wave 103 imaging voice in Grand Theft Auto: Vice City Stories, as well as providing backing vocals for "Welcome to the Real World" on Head Radio in Grand Theft Auto: Liberty City Stories. She is also credited as an office support for GTA Vice City and an office administrator for GTA San Andreas, GTA Liberty City Stories and GTA Vice City Stories.
External Link
Ad blocker interference detected!
Wikia is a free-to-use site that makes money from advertising. We have a modified experience for viewers using ad blockers

Wikia is not accessible if you've made further modifications. Remove the custom ad blocker rule(s) and the page will load as expected.