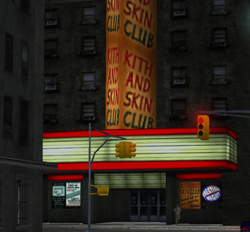 Kith and Skin Club is a strip club in the Red Light District, Portland Island, Liberty City in 1998. In 2001, it would become the Meeouch Sex Kitten Club.
The club's slogan is "Think of us as family", playing on the saying kith and kin, meaning friends and family.
Ad blocker interference detected!
Wikia is a free-to-use site that makes money from advertising. We have a modified experience for viewers using ad blockers

Wikia is not accessible if you've made further modifications. Remove the custom ad blocker rule(s) and the page will load as expected.