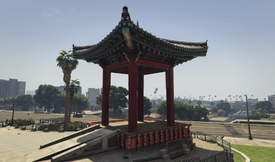 The Korean Pavilion is a monument and landmark in Grand Theft Auto V, located on South Rockford Drive, Vespucci Boulevard and Decker Street in the district of Little Seoul, Los Santos.
Description
It is a traditional red and green Korean gazebo with a small garden. The monument is a replica of the real-life Korean Pavilion & Gardens in Koreatown, Los Angeles, also known as Da Wool Jung. One of the 50 stunt jumps is performed here.
Gallery
Trivia
A scene with Trevor after switching characters shows him performing a martial arts posture in the Korean Pavilion.
Ad blocker interference detected!
Wikia is a free-to-use site that makes money from advertising. We have a modified experience for viewers using ad blockers

Wikia is not accessible if you've made further modifications. Remove the custom ad blocker rule(s) and the page will load as expected.