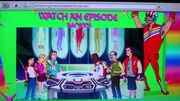 kungfuraibowlazerforce.com is the official website of the Kung Fu Rainbow Lazerforce TV Show in Grand Theft Auto V.
The Mission
Kung Fu Rainbow Lazer Force began as a way to teach kids morality in a world where there aren't morals anymore. Where pornography is available on a smartphone or Lifeinvader tablet. Pictures of nakedness poison the minds of children. It results in widespread hooliganism, banditry, idolatry, early onset dementia and unwillingness to honor thy father and mother.
Girls
Thanks to the hormones in factory farmed chicken, girls are developing breasts at an earlier age. This spells trouble in parked cars and classrooms. That's why Kung Fu Rainbow Lazer Force teaches kids to dress modestly and appropriately. Women of all ages should never show their cleavage or a bra strap - for it breeds wanton lust in the minds of.
Sex
Sex is bad. But fighting evil is good. Violence towards evildoers who think, speak and live differently is VERY good. Through Kung Fu Rainbow Lazer Force, there is a message for us all.
The Team
The team consists of, Sebastian Kayden, Tallulah, Zoey, Quota, and Dirk.
Merchandise
We've signed an exclusive licensing agreement with Up-n-Atom Burger. Coming soon, not only will you be able to buy food from when we were morally superior, but toys of the morally superior. With each Up-n-Atom kids triple bacon chili cheeseburger fries you'll get the chance to purchase a Kung Fu Rainbow Lazer Force action figure.
Though the merchandise can not be purchased by any of the protagonists in GTA V, the merchandise include, The Sebastian Kayden Action Figure, Chewing Gum, Alarm Clock, and Trading Cards.
Gallery