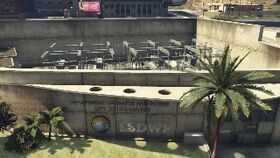 The LSDWP Vinewood Substation is an electrical substation operated by the Los Santos Department of Water & Power located in Vinewood Hills, Los Santos in Grand Theft Auto V.
Description
The facility is a large electrical substation located on Elgin Avenue in the block bordered by Clinton Avenue and Vinewood Boulevard in south Vinewood Hills, east of Downtown Vinewood. A two story brick building is located to the south side and appears to house offices and has a public entry on the east side. The rest of the facility is comprised of a high walled area open to the air containing the electrical transformer equipment. An accessible pedestrian doorway is available to gain entry to this part of the site.
Due to its location next to the main transmission pylons from the power generation facilities to the north, and the lack of other large facilities, it can be assumed this is the main high to low voltage transformer substation for the residential and commercial sectors of Los Santos.
Gallery
See Also
Ad blocker interference detected!
Wikia is a free-to-use site that makes money from advertising. We have a modified experience for viewers using ad blockers

Wikia is not accessible if you've made further modifications. Remove the custom ad blocker rule(s) and the page will load as expected.