This article or section contains insufficient information and is considered as a Stub. You can help GTA Wiki by expanding it as much as you can.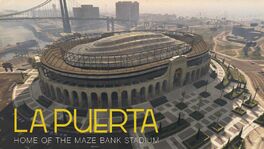 "A community with strong roots in the fishing and longshoring industry, La Puerta, like so many other proud blue-collar neighborhoods, survived unchanged for hundreds of years until it was infiltrated by hipsters who sneaked in disguised as them and started drinking in their dive bars."
―GTAV digital manual
La Puerta, previously called Los Puerta, is a neighborhood in southern Los Santos, San Andreas in GTA V. La Puerta is also the location of the Maze Bank Arena.
Events of GTA V
La Puerta is the main setting of the mission The Long Stretch, where Franklin, Lamar and Stretch are ambushed by the Ballas in a warehouse.
Influence
Roads and Streets
Places of interest
Businesses
Trivia