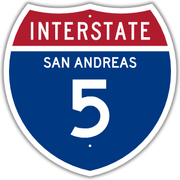 La Puerta Freeway  (Interstate 5) is a freeway that runs through the southern part of Los Santos. It starts/ends after a T-Intersection off the Del Perro Freeway and runs throught West Los Santos before it ends at the Port of L.S and turns into Elysian Fields Fwy. 
La Puerta Freeway is a Interstate highway in the ingame Interstate system. It is one of the three interstates in the GTA V.
Ramps/Exits
TBA
Intersections
Trivia
This freeway was originally called the "Los Puerta Freeway" in the first trailer for Grand Theft Auto V, however it was presumably changed because "Los Puerta" is an incorrect translation from Spanish.
"La Puerta" is a Spanish feminine singular noun meaning "the door."
The real-life Interstate 5 runs through Los Angeles, as the Santa Ana Freeway and Golden State Freeway.
Despite sharing the Interstate 5 designation with other real-life freeways, the La Puerta Freeway most closely resembles Interstate 110, also known as the Harbor Freeway.