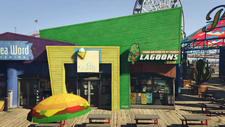 Lagoon's Diner is a fast food restaurant in Grand Theft Auto V that is located next door to Cream Pie on the Del Perro Pier, in Los Santos.
It sells many products, from burgers to wiener dogs. The name lagoon could have came from the sea monster logo next to the name, also called the "creature from the black lagoon". Its slogan is "Come on over to my place", a possible reference to Hot Coffee.
Ad blocker interference detected!
Wikia is a free-to-use site that makes money from advertising. We have a modified experience for viewers using ad blockers

Wikia is not accessible if you've made further modifications. Remove the custom ad blocker rule(s) and the page will load as expected.