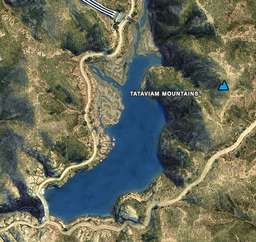 The Land Act Reservoir is a water reservoir featured in Grand Theft Auto V. It is located in the Tataviam Mountains, east of Los Santos. The reservoir is impounded by the Land Act Dam at its south-eastern end, at which point the water flows into the Los Santos River. Water pipes connect the water to a water filtration plant beside the Los Santos Freeway, which is accesed by a dirt road. Another road connects it with the Palomino Freeway in the east. Although it is not in the judisriction of the city of Los Santos itself, it is one of two main reservoirs in the surrounding Los Santos County, the other being Lake Vinewood.
Influence
The reservoir is based on the real-life Morris Reservoir in Los Angeles, California.
Points of Interest
Gallery
Ad blocker interference detected!
Wikia is a free-to-use site that makes money from advertising. We have a modified experience for viewers using ad blockers

Wikia is not accessible if you've made further modifications. Remove the custom ad blocker rule(s) and the page will load as expected.