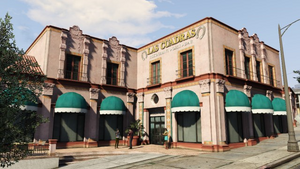 Las Cuadras is a restaurant deli, and bar in Grand Theft Auto V.
Description
The restaurant is located on North Rockford Drive in Morningwood, Los Santos. The business provides customers with a six-space parking lot which is accessible to the left of the bar. Behind the building are Residential Recycling Program wheelie bins and Household Order Bin Operations dumpsters. The restaurant is not accessible to the player and plays no role in the storyline.
Trivia
Its name translates to "The Stables" in Spanish. In correspondence, the logo bears two horseshoes.
Ad blocker interference detected!
Wikia is a free-to-use site that makes money from advertising. We have a modified experience for viewers using ad blockers

Wikia is not accessible if you've made further modifications. Remove the custom ad blocker rule(s) and the page will load as expected.