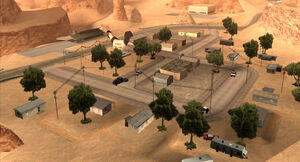 Las Payasadas is an unincorporated community located in northern Bone County, San Andreas. Roadside signage of the town indicates an population of 57 in 1992. It is situated only minutes northwest of Verdant Meadows (overlooked by the town), and contains a prominent feature of the surrounding landscape, a large plaster chicken with a constantly bobbing head. When entering the town from west, a sign is visible saying "Las Payasadas, home of "The Big Pecker", The World's Largest Cock"
The name Las Payasadas translates roughly from Spanish to horseplay, clowning around, or antics, a possible reference to the lack of seriousness afforded to this town owing to its giant chicken. Other than the chicken, the town does not possess any other points of interest.
Places of Interest
Vehicles
Weapons
Pickups
Other
Trivia
In the map that comes with the game, the town is misspelled as "Las Payasdas".
Before you approach the town (travelling west), there is a small dirt road that leads to the road leading to an unused building. This road, although small, has an unusually high amount of traffic on it.