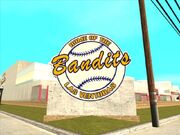 The Las Venturas Bandits are a professional baseball team based in Las Venturas, San Andreas. Their home stadium is the baseball-specific Las Venturas Bandits Stadium, which is located in the Redsands West district of the city. The Bandits are implied to be rivals with the other San Andreas baseball teams, the Los Santos Saints and San Fierro Packers.
They are most likely based off on the Las Vegas 51s, Las Vegas's real-life baseball team, although they play in the minor leagues. It is likely that the Bandits is a Minor League Baseball team as they are placed in a city not known for any pro sports team and their stadium resembles a minor league stadium.
Ad blocker interference detected!
Wikia is a free-to-use site that makes money from advertising. We have a modified experience for viewers using ad blockers

Wikia is not accessible if you've made further modifications. Remove the custom ad blocker rule(s) and the page will load as expected.