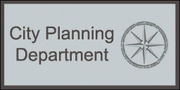 The Las Venturas City Planning Department is a municipal government building featured in Grand Theft Auto: San Andreas.
Description
Located near the Come-A-Lot casino in southeastern Las Venturas, the building, as its name implies, is the headquarters for Las Venturas' urban development. The building houses blueprints for several of the city's buildings, and is patrolled by armed security guards. Because of this, photography and the carrying of unconcealed weapons is prohibited within the building.
There is a clock behind the reception in the lobby, which reads and stays at 7:35.
There is a first aid room on the third floor, though no health or armour pickups are located in the room.
The building is only accessible during the mission Architectural Espionage.
Gallery
Trivia
In several rooms on the top floor, the blueprints of Starkweather's Estate from Manhunt can be seen.