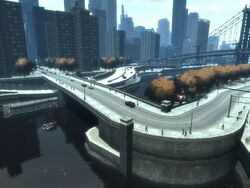 The Leaper's Bridge is the shortest island crossing in Liberty City in Grand Theft Auto IV and Grand Theft Auto: Chinatown Wars. It connects Algonquin and Colony Island. The name may come from the fact that the island it connects to Colony Island, which was in fact a leaper colony. Other legends say that it's called Leaper's Bridge because people leap off the bridge to commit suicide. While on one of the Higgins Helitours the pilot will remark that the bridge is "still the recordholder for suicides".
It is supposedly based on the Roosevelt Island Bridge in New York City. However, it is not in the same location, and it bears no resemblance to the actual Roosevelt Island Bridge.
Gallery
Ad blocker interference detected!
Wikia is a free-to-use site that makes money from advertising. We have a modified experience for viewers using ad blockers

Wikia is not accessible if you've made further modifications. Remove the custom ad blocker rule(s) and the page will load as expected.