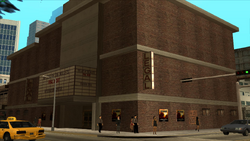 The Legal Cinema is a movie theater located on Market Boulevard in Commerce, Los Santos, in Grand Theft Auto: San Andreas.
Description
The theater is located just northwest of Roboi's Food Mart. "The Last of the Mullets" and "Reservoir Dregs" are listed as movies playing in the cinema during the events of the game. Posters for the film "The Discharger: Evacuator III" can also be found here. The building is inaccessible to the player.
Collectibles
Gallery
Ad blocker interference detected!
Wikia is a free-to-use site that makes money from advertising. We have a modified experience for viewers using ad blockers

Wikia is not accessible if you've made further modifications. Remove the custom ad blocker rule(s) and the page will load as expected.