"Are you looking for a safe, eco-friendly, fuel efficient car that's practical for getting around town? Well you are in the wrong website. Are you looking to get them dripping as you pass by? Welcome! You are in a safe place"
―Website description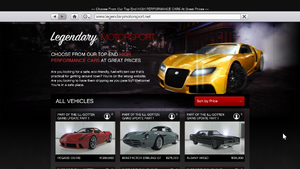 legendarymotorsport.net is an interactive website featuring in Grand Theft Auto V where it is possible to buy vehicles. The company sells super cars as well as classic and rare vehicles. In Grand Theft Auto Online, the Legendary Motorsport website features a much broader selection of vehicles the player can purchase, most of which cost upwards of $100,000. This is because the player cannot modify stolen vehicles upwards of $100,000, and the majority of vehicles would be unobtainable otherwise.
Vehicles
Type
Name
Single Player Price
Online Price
Availability
Image
Motorcycles
Principe Lectro
N/A
$750,000
After The Pacific Standard Job is completed
Online Only
Sports Classic
Lampadati Casco
N/A
$680,000
After Prison Break - Station is complete
Online Only
Sports
Lampadati Furore GT
N/A
$448,000
Online Only
Sports Classics
Invetero Coquette Classic
$395,000 (Enhanced Version)
$665,000
Story Mode (Enhanced Version only) and Online
Sports Classics
Invetero Coquette Classic Topless
$395,000 (Enhanced Version)
$695,000
Story Mode (Enhanced Version only) and Online
Motorcycles
Dinka Thrust
N/A
$75,000
Online Only
Motorcycles
Dinka Vindicator
$630,000 (Enhanced Version)
$630,000
Story Mode (Enhanced Version only) and Online
Sports
Dewbauchee Massacro
N/A
$275,000
Online Only
Super
Pegassi Zentorno
N/A
$725,000
Story Mode and online
Super
Pegassi Osiris
$1,950,000 (Enhanced Version)
$1,950,000
Story Mode (Enhanced Version only) and Online
Super
Progen T20
$2,200,000 (Enhanced Version)
$2,200,000
Story Mode (Enhanced Version only) and Online
SUVs
Enus Huntley S
N/A
$195,000
Story Mode and Online
Sports
Dinka Jester
N/A
$240,000
Online Only
Super
Grotti Turismo R
N/A
$500,000
Story Mode and Online
Sports
Albany Alpha
N/A
$150,000
Online Only
Sports
Hijak Khamelion
N/A
FREE (Collector's Edition)


$100,000
(Enhanced Version)

Online Only
(Collector's Edition)

Muscle
Vapid Hotknife
$90,000 (Enhanced Version)
FREE (Collector's Edition)


$90,000 (Enhanced Version)

Story Mode and Online
(Collector's Edition)

Motorcycles
Nagasaki Carbon RS
$40,000 (Enhanced Version)
FREE (Collector's Edition)


$40,000 (Enhanced Version)

Story Mode and Online
(Collector's Edition)

Sports
Annis Elegy RH8
N/A
FREE
Online
(Social Club)
Sports Classics
Truffade Z-Type
$10,000,000
$950,000
Story Mode and Online
Sports Classics
Grotti Stinger
$1,000,000
$850,000
Story Mode and Online
Sports Classics
Grotti Stinger Topless
N/A
$871,000
Online Only
Sports Classics
Grotti Stinger GT
N/A
$875,000
Online Only
Sports Classic
Dewbauchee JB 700 Decommissioned
$475,000
$375,000
Story Mode and Online
Sports Classic
Benefactor Stirling GT
$975,000
(Enhanced Version)
$975,000
Story Mode (Enhanced Version only) and Online
Super
Grotti Cheetah
$650,000
$650,000
Story Mode and Online
Super
Overflod Entity XF
$795,000
$795,000
Story Mode and Online
Super
Truffade Adder
$1,000,000
$1,000,000
Story Mode and Online
Sports Classics
Pegassi Monroe
$490,000
$490,000
Story Mode and Online
Coupes
Enus Cognoscenti Cabrio
$185,000
$185,000
Story Mode and Online
Super
Pegassi Vacca
$240,000
$240,000
Story Mode and Online
Super
Vapid Bullet
N/A
$155,000
Online Only
Sports
Grotti Carbonizzare Convertible
N/A
$195,000
Online Only
Sports
Invetero Coquette
N/A
$138,000
Online Only
Sports
Invetero Coquette Topless
N/A
$159,000
Online Only
Coupes
Dewbauchee Exemplar
N/A
$205,000
Online Only
Super
Pegassi Infernus
N/A
$440,000
Online Only
Sports
Obey 9F
N/A
$120,000
Online Only
Sports
Obey 9F Cabrio
N/A
$130,000
Online Only
Sports
Dewbauchee Rapid GT
N/A
$132,000
Online Only
Sports
Dewbauchee Rapid GT Convertible
N/A
$140,000
Online Only
Sedans
Enus Super Diamond
N/A
$250,000
Online Only
Super
Coil Voltic Topless
N/A
$172,000
Online Only
Super
Coil Voltic
N/A
$150,000
Online Only
Sports
Pfister Comet
N/A
$100,000
Online Only
Sports
Benefactor Surano Convertible
N/A
$100,000
Online Only
Sports
Bravado Banshee
N/A
$105,000
Online Only
Sports
Bravado Banshee Topless
N/A
$126,000
Online Only
Muscle
Albany Virgo
$195,000 (Enhanced Version)
$195,000
Story Mode (Enhanced Version only) and Online
Muscle
Vapid Chino
$225,000 (Enhanced Version)
$225,000
Story Mode (Enhanced Version only) and Online
Muscle
Invetero Coquette BlackFin
$695,000 (Enhanced Version)
$695,000
Story Mode (Enhanced Version only) and Online
Coupe
Enus Windsor
$845,000 (Enhanced Version)
$845,000
Story Mode (Enhanced Version only) and Online
Off-Road
Coil Brawler
$715,000 (Enhanced Version)
$715,000
Story Mode (Enhanced Version only) and Online
Gallery
Trivia