Lenny Avery Realty is a real-estate business in Grand Theft Auto V.
lennyavery-realty.com is their website.
In the Strangers and Freaks mission Extra Commission, the player uses the website to locate or get directions to the properties that Lenny is selling, and destroy the "For Sale" signs.
Known Customers
Houses for sale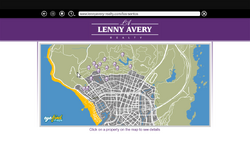 There are 15 properties in total that must have their signs vandalised.
Several properties have misleading location descriptions, parodying the real estate practice of deceptively claiming location status.
2103 Ace Jones Drive
Stunning deck and infinity pool with spectacular views of the city! If you have your heart set on an iconic 1960-style Vinewood Hills home, look no further. last house on coveted Ace Jones Drive so no prying eyes next door when the party really gets swinging!

"Lenny Avery - Always closing, never closed!"






2106 Hangman Avenue
Perched on one of the many slopes of Vinewood Hills, this 4-bedroom, 3-bathroom isn't on the biggest of lots, but the unobstructed views will more than make up for it. So unobstructed, in fact, that the previous owner forgot to install any fencing, creating what we like to call an "Infinity Yard". Might need some child-proofing.

"Lenny Avery - Everything I touch turns to SOLD!"






Sam Austin Drive
Swimming pool, tennis court, landscaped gardens - this spectacular mansion in Richman is steeped in history. Comes with indentured workers included! So big you'll still be finding bedrooms months after you move in!

"You're never a loan with Lenny Avery"






Cougar Avenue
One block from the boardwalk in Del Perro, with patio and small pool area at the back, this space-efficient 3-bedroom is the perfect millionaire starter house to get your comfortable with the guilt of over-privilege before moving onto something more flashy. Hate your rich self in style.

"Lenny Avery - Getting your wife the extra inches she deserves!"






Playa Vista
Ocean views! Newly-renovated, 3-bedroom apartment opposite the beach on Playa Vista in Del Perro. Perfect for the kind of trendy corporate sell-out who likes to surf to prove that they're still in touch with their spiritual side.

"Lenny Avery - Call me on my SELL phone!"






3569 Cox Way (Not Didion Drive)
Are you looking for a property with celebrity pedigree? This beautiful Italian-villa-style property on sought-after Didion Drive in Eclipse built for entertaining! More than a few models were found floating face-down in this swimming pool when actor Mitch Dexter lived here in the 1960s, but those were different times and nothing was proven!

"Lenny Avery - Serving up taste with extra cheese!"






Marlowe Drive (Lake Vinewood Estates)
Huge lot! The problems with over-crowding in Los Santos will seem miles away at this spacious property in Vinewood Hills... because they literally are. With lots of different spaces for entertaining, this is the perfect party pad for keeping your work colleagues separate from your cocaine buddies.

"Lenny Avery - Sold in 30 days or I'll buy it myself!"






Milton Road (Not Vine Drive)
Cut into a sheer drop in Vinewood Hills, come with your check book and landslide insurance. This one will disappear fast! Just like your mouthy wife when you push her over and claim it's an accident.

"Lenny Avery - Your one-man dream team!"






2835 Picture Perfect Drive (Not Abe Milton Parkway)
On a raised lot in Rockford Hills, with partial views and a small pool area, this is the sort of modestly sized house that would cost you $200,000 in the Midwest... but this is Rockford Hills so add a zero!

"Are you getting no place fast? Pick up a pen and call Len!"






1119 Hillcrest Avenue
Breathtaking views of the city from your swimming pool! Located high in the Vinewood Hills, this exquisitely-designed property has all the privacy and luxury you need. The little people really will look little from up here!

"Lenny Avery - Don't put a price on your dreams. BORROW!"






Portola Drive (Not Hampstead Drive)
With high hedges to keep the riff-raff out, this beautiful, expansive property is in a prime location on Hampstead Drive. And don't worry about people not knowing you live in Rockford Hills - there's a huge sign right outside!

"Lenny Avery - I'm sweet on suites!"






South Mo Milton Drive
We like to call this beautiful, ranch-style home in Vinewood Hills "The Mullet" because it's business at the front and party at the back! With manicured lawns, patio and swimming pool, the gorgeous, private backyard will more than make up for the fact that you're stepping out of your front door into direct traffic.

"Lenny Avery - We have LOTS to sell"






2114 Mad Wayne Thunder Drive (Not Milton Drive)
Needs some TLC! This compact, ranch-style home doesn't have the best views in Vinewood Hills but it's priced accordingly! Pool and patio at the back, tacky water feature at the front. If you're a snob looking for an expensive address at a bargain price, this is the house for you.

"Lenny Avery - Beauty is in the eye of the realtor!"






3667 Wild Oats Drive
Two swimming pools! Why? Why not? With sweeping panoramic views of Los Santos, this beautiful, secluded property in Vinewood Hills is all about style and ostentation. This house was renowned for its legendary parties when movie director Barry Andrews lived here in the 1980s... not a female in sight!

"One call with Lenny, you'll be sold!"






Greenwich Place
Your own palm trees! An obscenely over-the-top Italian-Spanish-colonial-style mansion for an obscenely over-the-top millionaire! With the amount of staff you'll need to maintain this place, you'll FEEL colonial! On exclusive Greenwich Place near the golf club and tennis club, so you can meet more great guys like you! And make jokes about the help.

"Lenny Avery - A cliché is worth a hundred words!"






Trivia