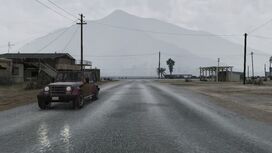 Lesbos Lane is a two-way street in Sandy Shores, Blaine County in Grand Theft Auto V. The street begins at Marina Drive and ends at Algonquin Boulevard, running parallel to Meringue Lane. There is nothing of general interest on this street except from an occasional trailer.
Gallery
Trivia
Ad blocker interference detected!
Wikia is a free-to-use site that makes money from advertising. We have a modified experience for viewers using ad blockers

Wikia is not accessible if you've made further modifications. Remove the custom ad blocker rule(s) and the page will load as expected.