"I've got to blend in with the Angels of Death. And they're bikers. [...] By looking like an idiot having a mid-life crisis."
―Lester Leroc to Huang Lee.
Lester "King" Leroc is an Elvis impersonator in Grand Theft Auto, appearing in Grand Theft Auto: Chinatown Wars as a main character.
Background
According to the Liberty City Police Database, he is known to frequent Burger Shot restaurants and dressed in a "King of Rock" costume. The database also lists him as "Lee Leroc" as opposed to "Lester". He has been arrested on three occasions: once in 1999 for burglary, in 2003 for possession of a controlled substance (namely cocaine) and in 2004 for burglary. He may also be working as a middleman as the LCPD Database states that the Jaoming supply the Angels of Death with narcotics. At one point, Lester tells Huang that he's divorced.
Events of GTA Chinatown Wars
Entering the gang
Lester works as a private investigator who is working undercover inside The Angels of Death for Hsin Jaoming in order to find a traitor among the Triads' ranks. During his undercover job, Lester becomes involved with the leader's girlfriend, Meredith.
As he doesn't know how to ride on a motorcycle, Lester asks Hsin's henchman Huang Lee to pretend to be him and pass the AOD's intiation test. Wearing Lester's spare jacket and riding his bike, Hunag manages to impress the gang by making several stunts and riding their enemies, The Lost Brotherhood, off their turf. He even destroys the Monoglobe, successfully letting Lester into the AOD. The convoy is soon attacked by The Lost, but Huang manage to fend them off and secure the products, giving Lester a chance to speak with the Meredith.
Despite Huang, pretending to be Lester, was successful with the the first test, Lester revealed there is another, final test: selling the gang's merchandise. However, Lester had to prove himself to other members that he wasn't a "narc", leading him to drink and smoke for two days in row. Huang then sells the merchandise for several potential buyers.
Investigation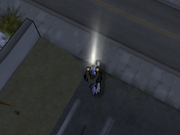 Lester later tells Huang that Meredith may know something about the Triad traitor, but only the most respectful members can talk with her, prompting him to agree protecting an AOD convoy carrying the gang's gear. Huang agrees to help and the two ride to meet up with the convoy.
Finally, Lester is hunted by the Angels, who suspect him to having an affair with their leader's woman, after they had an oral sex. As Meredith was about to tell him about the traitor, Lester asks Huang to keep the AOD away from them for a few minutes, as well as telling him not to rise the woman's suspicions. After driving Meredith to his apartment, Huang protect them from the attacking AOD bikers. While not finding who the traitor is, Lester did find that the Angel of Death were innocent.
Mission Appearances
GTA Chinatown Wars
Personal Information
LCPD Database information
Surname: Leroc
First Name: Lee "King"
Age: 46
Place of Birth: Liberty City
Affiliations: Linked to the Triads and Angels of Death OMG.
Criminal Record:
1999 - Burglary: Illegal Entry with Criminal Intent
2003 - Possession Controlled Substance: Cocaine
2004 - Burglary: Illegal Entry with Criminal Intent
2009 - Eating girls privates
Notes:
Private Investigator
Works with Hsin Jaoming's Triad Organized Crime Network and the Angels of Death OMG.
Known to frequent Burger Shot restaurants and dress in a "King of Rock" costume.
Trivia
.