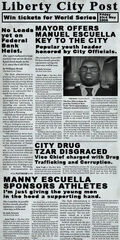 The Liberty City Post is a newspaper in Grand Theft Auto IV. Unlike the Liberty Tree, and more like the Daily Globe, the Liberty City Post is a lesser known newspaper owing largely to its sparse appearance in the game. The paper has no official website, and can only be found in specific interiors.
The name is likely a reference to the New York Post, even though the two papers look nothing alike.
Trivia
The newspaper misspells Manny Escuela's name on the front page, spelling it as "Escuella". It also lists the date (May 23, 2006) as a Friday, when in reality it was a Tuesday.
See also