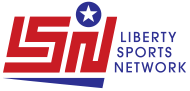 Liberty Sports Network (LSN) is a television sports channel advertised in Grand Theft Auto IV. The channel is advertised on the BAWSAQ and on posters located in Star Junction and Purgatory, Liberty City, and billboards at the Liberty City Swingers baseball field claim that the team's games are broadcast on the channel. Liberty Sports Network appears to be connected with the Talkin' Balls magazine, as the magazine's name appears on LSN's Star Junction bar.
The channel cannot be viewed on any of the protagonists' televisions.
Influence
Liberty Sports Network appears to be based on ESPN. The Star Junction bar is a reference to the ESPN Zone bar and grill in Times Square. The channel's logo appears to resemble the Nazi swastika.
Gallery