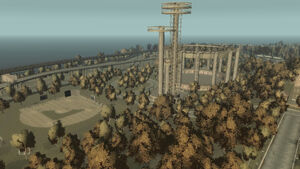 The Liberty State Pavilion Towers, or Festival Towers, are large towers in Meadows Park, Dukes, Liberty City that are left over from the Liberty City World Fair. The tallest tower is 76 meters high. Connected to the towers is a large round pavilion that can be accessed through a set of doors on the side of the structure. There is a ladder accessible by the player that leads to three different observation decks with binoculars that provide views of Dukes, Broker and the skyline of Algonquin. The ladder is notable for being the highest accessible ladder in the game. These structures are based on the 1964 World's Fair Observation Towers in New York.
Ad blocker interference detected!
Wikia is a free-to-use site that makes money from advertising. We have a modified experience for viewers using ad blockers

Wikia is not accessible if you've made further modifications. Remove the custom ad blocker rule(s) and the page will load as expected.