Ad blocker interference detected!
Wikia is a free-to-use site that makes money from advertising. We have a modified experience for viewers using ad blockers

Wikia is not accessible if you've made further modifications. Remove the custom ad blocker rule(s) and the page will load as expected.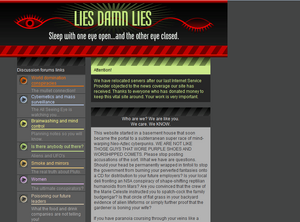 liesdamnlies.net is a website accessible in Grand Theft Auto IV, The Lost and Damned, and The Ballad of Gay Tony. The site is mainly about conspiracy theories. The website is strongly based of a Secret Society known as the Illuminati, hinting it by showing its known mark, the "All Seeing Eye". Oleg Minkov has the site as a computer background (the All Seeing Eye is watching you...). The website also has numerous forums such as:
World domination conspiracies - The mullet connection!
Cybernetics and mass surveillance - The All Seeing Eye is watching you...
Brainwashing and mind control - Planning notes so you will know.
Is there anybody out there? - Aliens, and UFO's.
Smoke and mirrors - The truth about Pluto.
Women - The ultimate conspirators?
Poisoning out future leaders - What the food and companies are not telling you!
The site is possibly based on internationalskeptics.com
Members
There are also various members of the site who have participated in discussion forums:
| Name | Location |
| --- | --- |
| Reichstagfire | Los Santos |
| Taos Hum | Vice City |
| Julio | Los Santos |
| Majestic12 | Vice City |
| Chupacabra | Liberty City |
| SkullandBones | Las Venturas |
| Bildeberg | San Fierro |
| Apollo11 | Las Venturas |
| Anon | N/A |
| Greg | Liberty City |
| The Ripper Lives | Vice City |
| Steve | San Fierro |
| AreaCinquanteetUn* | Brussels |
| Barcode | Liberty City |
| Kevin | Los Santos |
| Bermuda Triangle | Vice City |
| Phil | London |
| ChemTrail | Liberty City |
| Big Foot | Los Santos |
| Speed Freak | Liberty City |
| Loch Ness | San Fierro |
| Frankie | Liberty City |
| Mary | San Fierro |
AreaCinquanteetUn reminds Area 51
See Also