"Invasion never felt so good"
―Motto
Lifeinvader is an online social networking service and company in Grand Theft Auto V.[1] LifeInvader was founded by CEO Jay Norris in his parents' house.
Lifeinvader Tablet
Lifeinvader also has a tablet. Not much about it is currently known, but it seems to be parodying the unsuccessful, real-life Facebook Home phones, phones optimized for Facebook and having integrated options for the social network.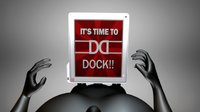 According to the released commercial, the device appears to be a combination between a regular tablet and a flashlight that can be used to "Dock" with other users in the social network.
Notable Lifeinvader users
People
Moe Chinpoko
Pho Gina
Rufus Bellows
Sally James
Yuri Stroganov
Companies
Lifeinvader Office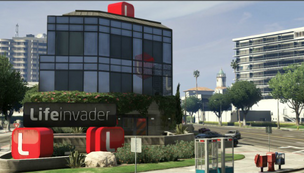 The Lifeinvader Office building appears to be in the game and is made accessible in the mission Friend Request.
Trivia
References