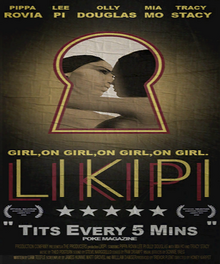 Likipi 
is a movie released in 1998 shown advertised in
Grand Theft Auto: Liberty City Stories
.
Description
Advertising for the movie can be found in all three districts of Liberty City, most prominently on Staunton Island, where the movie is being shown at the theatre in Bedford Point. 
The movie's plot is about a supposed lesbian relationship between two women, as judging by the movie's tagline being "Girl, on girl, on girl, on girl.". It can also be shown that the two women are in a secret relationship, judging by the fact they are placed inside a keyhole.
The movie has a five star rating and stars the actors Pippa Rovia, Lee Pi, Olly Douglas, Mia Mo and Tracy Stacy. Much like Silent But Violent and The Mainframe, two movies also advertised in the city, the movie has been critiqued by Poke Magazine as having "tits every five mins" (mins being slang term for minutes).
Trivia
Much like other advertisements in the game, the woman shown in the poster appear to be taken from Grand Theft Auto: San Andreas. Upon further inspection, the woman to the left appears to strangely be Catalina from said game, noticeable from her eyebrows and facial structure.