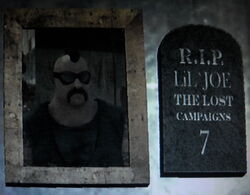 Lil' Joe is a character in the Grand Theft Auto series, being mentioned in The Lost and Damned.
Lil' Joe was a resident of Liberty City and a member of The Lost MC. He died at some point prior to the events of The Lost and Damned, serving seven campaigns by the time of his death.
Trivia
Though not the first member of the Lost to have died, he is the first to have his picture hung on the Lost's memorial wall.
Joe is rarely mentioned during dialogues between some members in the Lost MC Clubhouse.