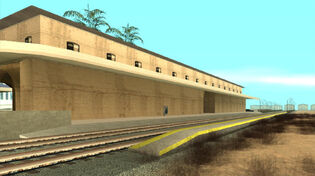 Linden Station is a railway station in Grand Theft Auto: San Andreas.
Description
One of two Brown Streak Railroad stations serving Las Venturas, San Andreas, Linden station is located in Linden Side in the east of the city. The station features two narrow platforms, though only one is covered. The station buildings are identical to those at Yellow Bell Station, the other station in Las Venturas, though the buildings at this station lack the cast iron pillars that the Yellow Bell buildings have.
Ad blocker interference detected!
Wikia is a free-to-use site that makes money from advertising. We have a modified experience for viewers using ad blockers

Wikia is not accessible if you've made further modifications. Remove the custom ad blocker rule(s) and the page will load as expected.