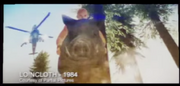 Loincloth is a patriotic action film released in 1984. It is notable for being the first known film to feature Jack Howitzer. It is one of three starring Howitzer released in 1984 (the others are Evacuator and Push-Up - The Movie). Not much of the plot is revealed, apart from the fact Howitzer's character is a professional wrestler who arrives in Thailand and apparently "teabags the bad guys".
Howitzer mentions the movie when Billy Dexter interviews him on Entertaining America. Scenes from the movie are seen at the start of the Jack Howitzer's television show where he is shown escaping from military helicopters, at one stage riding on a boar.
Ad blocker interference detected!
Wikia is a free-to-use site that makes money from advertising. We have a modified experience for viewers using ad blockers

Wikia is not accessible if you've made further modifications. Remove the custom ad blocker rule(s) and the page will load as expected.