This article or section contains insufficient information and is considered as a Stub. You can help GTA Wiki by expanding it as much as you can.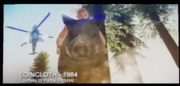 Loincloth is a film released in 1984. It is notable for being the first film to feature Jack Howitzer.
Scenes from the movie are seen at the start of the Jack Howitzer's television show. He is shown escaping from military helicopters, at one stage riding on a boar.