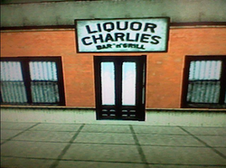 Liquor Charlies Bar 'n' Grill is a bar and grill found in Grand Theft Auto: Liberty City Stories, located in Fort Staunton as of 1998. The building is destroyed by Toni Cipriani after he blows up the district for Donald Love.
Ad blocker interference detected!
Wikia is a free-to-use site that makes money from advertising. We have a modified experience for viewers using ad blockers

Wikia is not accessible if you've made further modifications. Remove the custom ad blocker rule(s) and the page will load as expected.